Communication: Recommendations
Communication is a very important aspect of research quality and can often be challenging due to various scientific backgrounds, cultures, needs and expectations. Here are some ideas and tips how communication with the users could be improved.
First meeting
Talk face-to-face to a new user before they start working at your core facility.
Listen to their project, their needs and expectations. Take notes.
Explain them what the facility can do for them, how processes are carried out and what your expectations are.
Use a "check-in" list (onboarding checklist) so that you do not forget to tell them some important information.
Provide a written document (file or printout) to summarize everything you said.
General considerations
Using a management software or a chat platform (for example) can help improving communication because it allows the follow-up of discussions in individual channels. Choose one way of communicating (email or management software or chat or…) and consistently use the same one with your user. This will facilitate the communication, make it more efficient, prevent forgotten and lost messages and also allow the tracking and follow-up of older messages. Being consistent and sticking to one system is important to ensure the user's optimal response and involvement.
After a discussion, summarize the key points in writing.
Do not forget to involve the PI, especially with inexperienced users.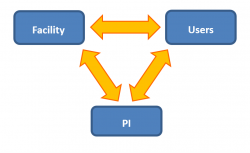 Tips
General tips about communication
Adapt to each user's different personalities, cultures, needs and expectations
Keep an open mind
Listen and speak
Do not assume you are being understood
Speak what is in your mind

The six facets of effective listening are explained here
paying attention
monitoring for non-verbal communication
paraphrasing and repeating back
making no assumptions
encouraging the communicator to speak
visualizing the message you are receiving

How to give an effective seminar is developed here
Stay on topic and on time
Tone of voice
Word choice
Body language
Keep people's attention (the average attention span is only 10-20 minutes…)
Practice
Problems
If a problem arises:
Immediately organize a small meeting with the user and CF staff to discuss the problem face-to-face and the desired outcome. Identify the cause and find solutions together. Agree on a strategy and timeline to remedy the problem.
Document the meeting: take notes of the problem and the agreed actions (meeting minutes).
One or two weeks later, check the action completion and update the meeting minutes.
Deal with problems face-to-face, not by emails!

Angry customers:
Remain clam
Listen actively and repeat back what the user is saying
Apologise and thank them for bringing the issue to your attention
Present a solution: explain steps you will take to solve the problem
Take action and set a time for follow-up
Highlight the case's priority
User's feedback
Another way to improve your service is to give users the possibility to provide feedback on the CF service (for example with this user's feedback form). An online survey (e.g. LimeSurvey or integrated to your website) is probably more efficient as it offers the advantage of analysing the data automatically.